Install and Configure RemoteApp (Quick Start) on Windows Server 2022
RemoteApp is a virtual application solution that allows users to run Windows-based applications from a remote server. It allows users to launch virtual applications from a server that appears on their computer as if it is installed locally, but in reality, is running on a remote server. This step by step tutorial covers Install and Configuring RemoteApp on Windows Server 2022 In this tutorial use Quick Start Deployment Type.
Prerequisite Required
The server you'd like to install RDS is a member Host of an Active Directory domain.
Demo environment
Computer Name: server1.test.com
Domain: test.com
Domain Controller: server1.test.com
Operating System: Windows Server 2022 Datacenter
IP Address: 192.168.0.2
Related Tutorials
1. Open the Server Manager dashboard and click Add roles and features.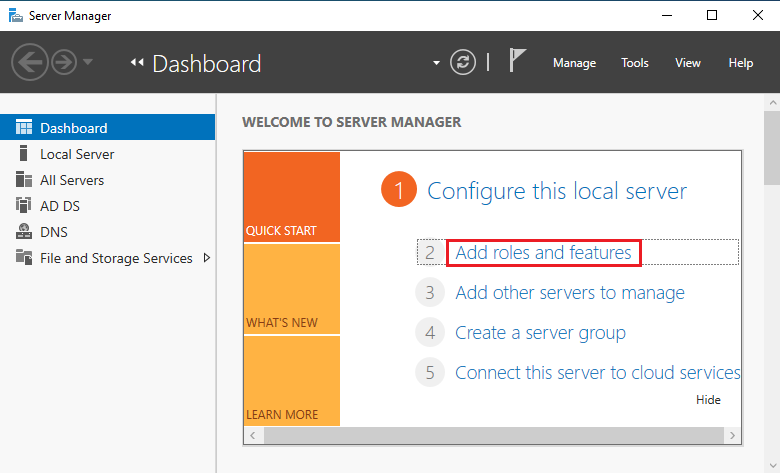 2. Before you begin, click Next.
3. In the installation type, Select Remote Desktop Services installation and click Next.
4. In Deployment Type, Select Quick Start and click Next.
A Quick Start allows you to deploy Remote Desktop Services on one server and creates a collection and publishes Remote App programs.
5. In Deployment Scenario, Select Session-based desktop deployment and click Next.
Session-based desktop deployment allows users to connect session collections that include published RemoteApp programs and Session-based desktops.
6. Configure the Server selection and click Next.
The Quick Start will install the RD Connection, RD Web Access, and RD Session Host role services on the same server.
7. Click Deploy, to complete the installation the servers must be restarted.
8. Click Close.
9. Open Run and input certlm.msc and find the auto-generated certificate under the Personal > Certificate. Remove it and set the one you got or you created in the same place.
SSL certificate for remote accessing is generated automatically by the installation. This certificate cannot work so remove it and set a valid certificate you got or set a self-signed certificate created by yourself.
10. Open Internet Information Services (IIS) Manager Right click on Default website and click Edit Bindings.
11. In Site Bindings, select https and click Edit.
12. Select SSL certificate and click OK.
13. Open Server Manager and Select Remote Desktop Services.
14. Select QuickSessionCollections and click Publish RemoteApp programs.
In this tutorial, we select Server Manager.
15. Select RemoteApp Program and click Next.
16. Click Publish.
17. Click Close.
18. Open the Browser and access https://(hostname or IP address)/RDWeb/ and click Advanced.
19. Click Continue.
20. Enter the User name and Password and click Sign in.
21. Click the icon (Server Manager) to run a remote program and then open the file downloaded.
22. Click Connect.
23. Enter Username and Password and click OK.
24. If successfully authenticated, RemoteApp shows only the application window, not the whole desktop.